Först

 8-inch capacity Wood Chipper
Först ST8 8" CAPACITY
Simply no comparison or compromise. An industry first, true 8" performance tool combining compact usability with outstanding performance and quality.
3 YEAR WARRANTY AS STANDARD
Exactly what it says on the tin. Every New Först Wood Chipper comes with an absolutely guaranteed, no quibble 3 Year Warranty. It's all about making your life and job easy and that's just what the 3 Year Warranty is designed to do. We'll give you an excellent product and an outstanding warranty to make your purchase decision as straight forward as possible.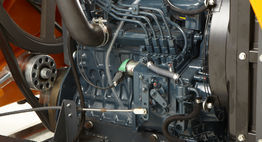 POWER
45hp Turbo Four cylinder Kubota diesel power, producing the perfect power for the chipping application.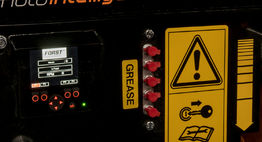 AUTO INTELLIGENCE CONTROL:
A simple yet advanced electrical control system taking care of all the electrics on the machine. Historically electrics on plant and machinery are a troublesome – AutoIntelligence overcomes this with a completely water and vibration proof system designed and tested in the toughest environments. This system gives excellent usability and outstanding reliability, it will also make you aware when servicing is due and will recommend routine maintenance.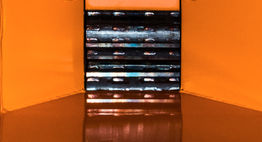 FÖRSTGRIP FEED ROLLER SYSTEM:
Twin hydraulic horizontal feed roller system offering exceptional grip on timber. The large top feed lifts on an arc, climbing toward the timber rather than lifting straight up and down, this makes climbing butt ends exceptional.  High tension due to twin heavy duty springs and a large bearings supporting either side of the top feed roller ensures strength and durability
SPECIFICATION
Feed Roller Aperture
8" x 10" (200 x 255mm)
Feed Roller System
ForstGrip Feed Roller System
Flywheel System
Open Top Flywheel (728 x 30mm) Twin 10" Blades
Engine
Kubota Diesel (V1505T) 45hp Turbo
No Stress System
AutoIntelligence No Stress Device
Feed System
AutoIntelligence Fully Water & Vibration Proof Touch Pads
Capacity
35 Litres
Noise Level
Lwa 122dB
Machine Width
1500mm
Machine Length
3669mm
Machine Height (Chute On)
2370mm
Weight
1250kg
Brakes
Fully Braked Chassis & Handbrake
About us
Global Machinery Sales supplies the Arbor, Forestry, Access and Farming Industries with quality Wood Chippers, Stump Grinders, Forestry Mowers, Horizontal Grinders, Log Splitters, Spider Lifts, Mini Loaders and Recycling Equipment from leading brands such as Morbark, Rayco, CMC, Timberwolf and Angry Ant.

Mon-Fri: 8am – 5pm
Newsletter
Subscribe to our newsletter to stay up-to-date on all the latest industry news, our news and to receive exclusive offers.